MOHS MICROGRAPHIC SURGERY
The most effective treatment for many types of skin cancer.
Southern Dermatology's highly specialized Dermatologists are Fellows of the American Society for Mohs Surgery.
Excellent treatment solutions require precise pathological skills combined with the surgical expertise to preserve healthy tissue.
SOUTHERN DERMATOLOGY HAS NORTH CAROLINA'S MOST SOUGHT-AFTER PROVIDERS OF MOHS MICROGRAPHIC SURGERY.
Gregory J. Wilmoth, M.D. and Eric D. Challgren, M.D. are fellows of the American Society for Mohs Surgery. This rigorous training requires extensive knowledge of the Moh's technique, advanced surgical precision, and extensive reconstruction experience.

OUR SPECIALISTS PROVIDE:
Diagnosis of skin cancer.

Mohs Micrographic surgery for the removal of the skin cancer.

Highly specialized surgical reconstruction techniques for the closure of the treated area.

Compassionate post-procedure follow-up care and wound management..
From diagnosing skin cancer to providing state-of-the-art Mohs Micrographic surgery technique, our board-certified dermatologists provide solutions and attentive care throughout the treatment process, including reconstructive closure and post-surgical care.


WHAT IS MOH'S SURGERY
Mohs micrographic surgery is a highly specialized, state-of-the-art technique used for the treatment of complex skin cancers. Mohs surgery allows the surgeon to entirely root out accessible cancer that appears on the outside of the body while sparing the greatest possible amount of healthy tissue to minimize scarring.
During Mohs surgery, our specialists surgically remove very thin layers of the affected skin (using a progressive approach). The tissue is carefully mapped, color-coded, and thoroughly examined microscopically, by the surgeon. During the procedure, 100% of tissue margins are evaluated to ensure that the cancerous tissue is completely removed before repairing the treated area.
The goal of Mohs surgery is to remove cancerous cells while doing minimal damage to surrounding healthy tissue. Mohs surgery is usually done on an outpatient basis using a local anesthetic.
This procedure was first developed in the 1930s by Dr. Frederick Mohs, a professor of surgery at the University of Wisconsin.
SOUTHERN DERMATOLOGY'S LKI¸EXPERTS ARE BOARD-CERTIFIED & MOHS SURGERY FELLOWS
Many patients are worried about treating skin cancer and also how they will look after the procedure. Southern Dermatology understands that looking like yourself, post-procedure is very important.
ADVANCED RECONSTRUCTIVE TECHNIQUE
While removing the skin cancer is paramount, our specialists also excel at minimizing the cosmetic impacts of the surgery by using advanced reconstruction techniques of the skin. Southern Dermatology partners with you throughout the treatment process, which includes post-procedure wound care.
EARLY DETECTION IS KEY
Southern Dermatology and Skin Renewal Center encourage yearly skin cancer screenings.
Keeping a close on eye on any changes to your skin is essential to your health. Southern Dermatology strongly encourages monthly self-skin exams combined with a yearly head-to-toe check by a Dermatologist to detect signs of precancerous or cancerous lesions on the skin.
Skin cancer is the most common form of cancer in the U.S. Over 3.3 million people will be treated this year for nonmelanoma skin cancer. The good news is that skin cancer is very treatable. When skin cancer is discovered, early detection plays a significant role in the successful treatment of the cancer.
Download Skin Self Examination Journal.
STAGES OF THE MOHS SURGERY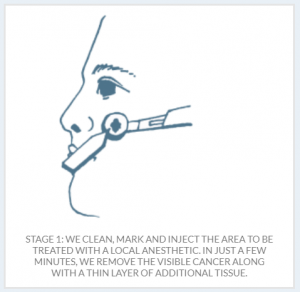 THE IMPORTANCE OF PREVENTION
Exposure to UVA & UVB rays is known to contribute to skin cancer. Southern Dermatology recommends the following guidelines to help prevent skin cancer: Wear sunscreen daily, while being careful to reapply after swimming or sweating. Avoid sunburns at all times, seek shade whenever possible, especially during the hours of 10 a.m. and 4 p.m. while the sun is strongest, avoid tanning beds, keep newborns out of the sun.
Mohs surgery is performed in the offices of Southern Dermatology & Skin Cancer Center on an outpatient basis and under local anesthesia. Dr. Wilmoth and Dr. Challgren have been trained in this highly specialized cancer treatment and both are Fellows with the American Society for Mohs Surgery. With their extensive knowledge of the skin and unique pathological skills, they are able to remove only diseased tissue, preserving healthy tissue and minimizing the cosmetic impact of the surgery. Please do not delay calling us at 919-782-2152 if you have any of the above mentioned risk factors.
OUR BOARD-CERTIFIED, MOHS SURGERY FELLOWS
VIDEO: ABOUT MOHS SURGERY
Dr. Wilmoth explains the Mohs Surgery at Southern Dermatology
Dr. Challgren discusses Mohs Surgery Success Rates
Dr. Wilmoth discusses scarring after Mohs Surgery